Dynamic HTML uses JavaScript to move elements within a page and to hide and show layers, without plug-ins. These DHTML demos are designed for Netscape Navigator version 4+ and Microsoft Internet Explorer version 4+.

Please use your Back button to return here, unless the demo includes an EXIT button.
UPDATE

This page hasn't been updated for years, but it's very popular so I'm not going to scrap it. You'll find my latest DHTML in the Foxglove Captions section and also in the cartoon BillGenie. My other DHTML stuff is at the Web Developer's Journal, an internet.com site, in the Amazing HTML and Wacky HTML sections.
RELATED SECTION

JavaScript Generated Layers. Why write your own DHTML layers? Get JavaScript to generate them for you. Then you can have hundreds. It even works. Well, some of the time.
THE DEMOS

Cascading title
...on a curious background of flowers.
(Takes a few seconds to load, and certainly gives your processor some exercise)
Auto sequence
Automatically takes you through three small demonstrations.
Use the EXIT button within the demo to leave early.
Busy bee
A more entertaining demo showing movement of a picture element.
The bee is an animated GIF.
Deep space
Another movement demo - a comet passing through a gas cloud.
The pictures are real and come from NASA/JPL/Caltech (legal conditions of use observed).

Opening and closing windows
Taking new browser windows to a mild extreme.
Earthquake
Try it and see. (Browser window must be less than full-screen)
A house with windows
Unfortunately there's a random element in where browsers put new windows, so the house probably won't be habitable. Use the EXIT button inside the demo to come back here, otherwise you'll need to close the extra windows manually.
Spiraling window
A little flighty one.
For links to more demonstrations and DHTML tutorials
visit the CSS Pointers Group site.
---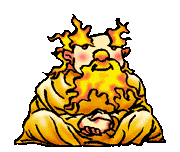 The World's first second not very interactive DHTML cartoon strip - BillGenie - can be viewed here on Foxglove.

Page last modified Aug 2002. All demos © Andrew Starling